DEPKG/CORE BEACH ATH Grecotel Cape Sounio 060119
Cape Sounio Grecotel Exclusive Resort, Sounio, Griechenland
Deposit now
Deposit now

Deposit now, the rest later
Flights included
Flights included

The perfect package with flights included
Superior-Bungalow mit seitlichem Meerblick
Athens
Athen
Cape Sounio, Grecotel Exclusive Resort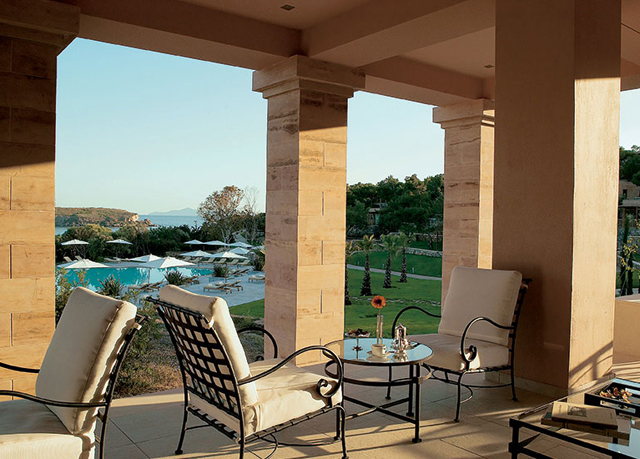 Poseidon-Tempel - Kap Sounion
Athen
Athen
Athen
A five-star spa resort on the Athens Riviera - includes breakfast and all travel
A five-star spa resort on the Athens Riviera with ancient temple views - includes breakfast, welcome treats and all travel
Sitting between aromatic pines and azure seas, with spectacular views of the Temple of Poseidon across the bay, Cape Sounio combines luxury accommodation with gourmet dining in a beautiful, tranquil setting. Ideal for a relaxing break but still close enough to explore historic Athens and the spectacular Acropolis, this all-rounder boasts its own pristine beach, a world class spa and seven restaurants and bars to choose from.

Take a dip in the seawater pool surrounded by fragrant gardens, with views of Poseidon's temple, or bathe like an Ancient Greek in the indoor heated hydro-tonic pool, surrounded by glass and turquoise mosaics. This coastline is steeped in Greek mythology, and local archaeological discoveries date from as far back as 700BC, but real culture vultures should make for Athens, which holds a wonderful collection of museums as well as the incredible Acropolis. Sportier travellers might be interested in the hotel's tennis, beach volleyball and yoga sessions, the wonderful pine-scented hiking in the Sounio Natural Park, or the Glyfada golf club, which is just 40 minutes away.



Highlights
Herbstcopy: Neigt sich der Sommer schon seinem Ende zu? Vielleicht ist es Zeit, die einzige Gottheit zu beschwören, die uns vor der dunklen Jahreszeit zu schützen vermag – den Sonnengott.
Second opinion
To find out more about the hotel, please visit their website
Read reviews on TripAdvisor

Compare our rates with our supplier's website